Investing in real estate is a risky business venture that requires attention to detail, quickness and efficiency. It is very important to choose the correct creditor: one that is committed to you and your investing future, not just their own profits. This white paper dives into 8 questions to ask when choosing a hard money lender!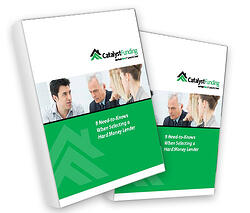 A Few Questions We'll Cover:
Do you require a minimum credit score?

Do you help generate a detailed ARV estimate?

Do you provide a detailed, itemized list of ALL closing costs?

And many more!