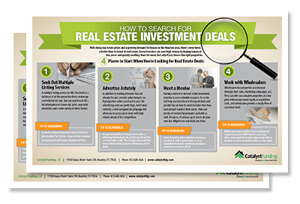 Looking to become more successful when it comes to your investments in real estate?
In this industry, it all starts with finding good deals.
But how exactly do you find them? Whether you're a newbie investor or an experienced veteran, it's always a good idea to stay up to date on which venues to consider when searching for deals.
To download our FREE infographic, simply fill out the form on the right to start finding more real estate deals so that you can maximize your profits now!