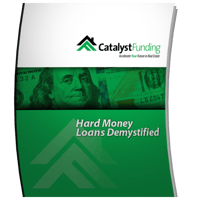 Get the facts in this ebook to understand what hard money is, how it works, and where to find opportunity.
Hard money loans are not for every situation. But in the right situation, they can be very profitable and lead to additional investment opportunities.
The best way to ensure you're making sound moves with your real estate investments is to get educated. Start by understanding the facts behind hard money lending.
Download Hard Money Loans Demystified to learn:
Hard Money 101: the who, what, why and how

Hard Money 201: hard lending vs. conventional

Hard Money 301: 10 questions to ask a lender

Examples of hard money loan success and more!
"The hard money lending application process was relatively easy; they provided all relevant information regarding the loan and fees, the loan was provided in a timely manner, and the repair draw process was also easy. We have used other lenders before, which had hidden expenses and made repair draws difficult."
– Tim DeLeon, Market Edge Homes